YOUR GARAGE ORGANIZATION AUTHORITY
IN DALLAS / FORT WORTH
If you're looking for the ultimate quality and innovation in garage storage, look no further. Garaginization has been helping our homeowners transform their garages into efficient storage spaces since 2008. We have been recognized as one of the best Garage Enhancement Companies in North America, by several of our valued vendor partners, and very proud to call Dallas / Fort Worth home.
High Quality Materials – Our products are made of the highest quality, most durable materials. From powder-coated steel shelves and ceiling racks, to melamine cabinets and commercial grade flooring, our products are guaranteed to get you organized and kept that way for years.
Most Efficient Systems – Our storage systems store more than any other system in a limited amount of space. The design and weight capacity of our systems allow you to store and organize everything in nearly 1/3 of the space.
Smart Investment – The solutions we offer are a one-time-investment, guaranteed to last a lifetime. By storing everything in the space your garage already provides, you'll eliminate the need for a costly, monthly storage unit. Perfect solution with the garage storage Dallas / Fort Worth residents love.
What Our Customers are saying:
MICHAEL M.

The team from Garaginization was great from initial contact through construction and final walkthrough of my new garage. They sent out an expert planner who had great ideas on how to maximize the space in my two car garage. He used lasers to accurately measure and 3D imaging tools to... read more model several options to choose from. The quality of the cabinet is first class. This is a five star team!

Maristella B.

I had installed the overhead racks in my home some years ago. They had been a life saver. I am also a Professional Organizer and was recently working on a project where I needed to design a garage for a high-end property. I called Garaginization again. Their lead designer, Hunter... read more Lankford redefined the "going the extra mile" concept for me. His professionalism, promptness, creativity, and desire to please the client was truly impressive. He created solutions to design obstacles we faced, all in record time. His demeanor is formidable as well. Garaginization can take care of all aspects of your garage project. They have the products, ideas, and the flexibility to accommodate your needs and wishes!!

Joann C.

We had our garage floor done today by Garaginization. We couldn't be happier with the results. It was a professional job from start to finish. We were so pleased with the initial consultation and the installers. They worked tirelessly on a very hot and humid day and were competent, cheerful... read more and professional. I would highly recommend this company. Great value for the price.

Terri C.

This is my second experience transforming my garage using Garaginization and I could not be happier. I have invested in garage flooring, cabinets and overhead storage. I get so many compliments on it - I wish I could show you the before and after pics. In fact, when I sold... read more my last home, the buyer told me that the garage sealed the deal for him. The owner, Robin and the team are always polite, professional and do a great job. Highly recommended product and business.

Brad F.

My second garage floor they have done in the last 3 years and they did a great job again! I recommend them to anyone who asks about their product. On time, and quick.

Michael N.

Highly recommend! From start to finish working with Garaginization was a delightful experience. Jon engineered the perfect garage solution for us.The scheduling and installation team were first class all the way. We went with a combo of fixtures, Monkey Bars, slatwalls and cabinets. Outstanding quality. We're very pleased.
GARAGE SOLUTIONS
Select from the options below to find your perfect solution
GET INSPIRED
Take a look at some of our recent garage transformations!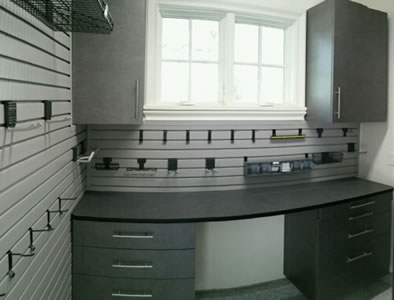 Our client was looking for a workshop within his garage. The ability to store items away in an enclosed closet but have a functional workspace as well. Every square inch has a purpose in this design!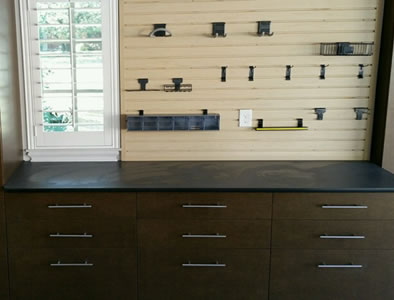 Focused on the Perfect Fit!
A solution maximizing the space around windows. Everything perfectly paced and still room for a little sunshine!
Powder Coated Red Upper Cabinets with Pewter Base.
Look at all That Storage!
A Perfect Workbench Solution with Multiple Depth Drawers for Individualized Tool Storage.
All of our Cabinets are Installed Four to Six Inches off of the Ground for Ease of Cleaning, Storage, and Pest Control needs.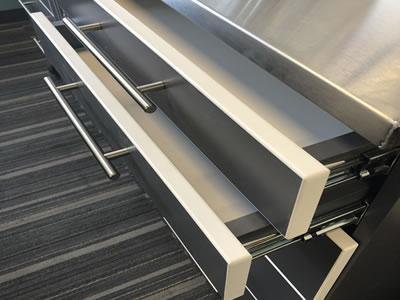 Amazing Color Combination!
This rolling workbench was created with our London Grey with White 3mm edge banding. Topped with a stainless steel counter.
A SYSTEM YOU WILL LOVE TO CALL YOUR OWN
The votes are in! Dallas / Fort Worth homeowners love having their garage as organized as possible. Our layered storage solutions make it possible for three times the items to be stored when comparing to traditional storage options. Let us help you identify all of the unused space on your walls and ceiling and maximize your garage today!
REQUEST A FREE CONSULTATION TODAY!